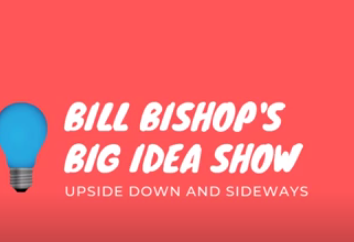 Episode 2
Upside Down & Sideways:
The Bill Bishop BIG Idea Show
Join BIG Idea coach Bill Bishop to get ideas and inspiration for your business and your life as an entrepreneur.
In this episode, Bill covers:
1. VALUE HUBS: How to make more money from each customer by designing your business as a "value hub". Discover how Apple, Amazon, Google, and UBER, used value hub thinking to grow their business, and how you can copy what they're doing.
2. LINE-UPs: Learn how to get more prospects by creating a "line-up". Learn how Bill helped launch the restaurant chain Earl's using this upside down and sideways strategy.
3. PERSONALITY TESTS: Know thyself is a great axiom for entrepreneur success, and the best way to know yourself is to do personality tests. Bill looks at two tests: The Enneagram (which is the original personality test), and The TruMark Index, created by his firm The BIG Idea Company.
4. CREATE A MYSTERY: A great upside down and sideways marketing strategy is to create a mystery that people have to figure out. A mystery gets their attention and engages them in what you are doing. Bill explains how to pull off this mystery strategy.
Hope you can join us live for this broadcast. There is no fee to attend live.